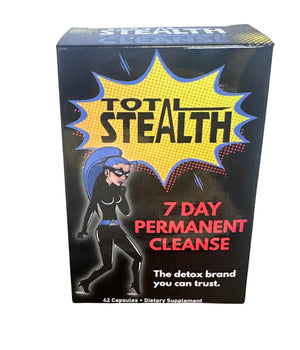 Total Stealth Detox 7 Day Permanent Cleanse
Detoxify your body permanently with Total Stealth 7 Day Permanent Cleanse.
DIRECTIONS
Take 1 Packet (all 6 capsules) in the morning with a light, low fat meal and 16oz of water. Wait 30 minutes and drink another 16oz of water. 
Helpful Hints
To ensure optimal results avoid all toxins for as long as possible. A minimum of 48 hours is recommended. 
When detoxifying it is vital to maintain a high daily water intake and urinate frequently.
Additionally, it is important to eat a well balanced, low-fat diet and to exercise daily.
Avoid caffeine, dairy, alcohol, pain relievers, large meals and any other dietary supplements while using Total Stealth.