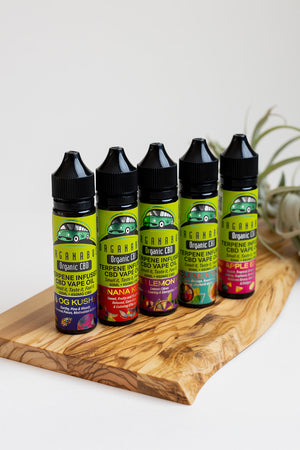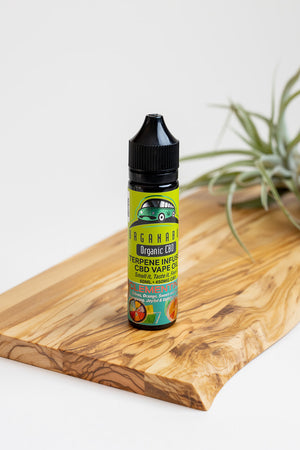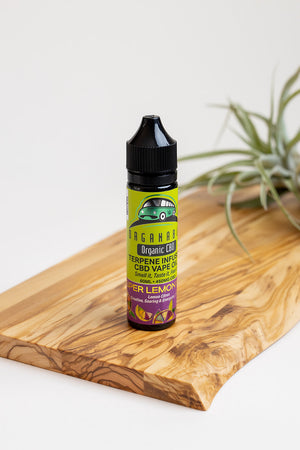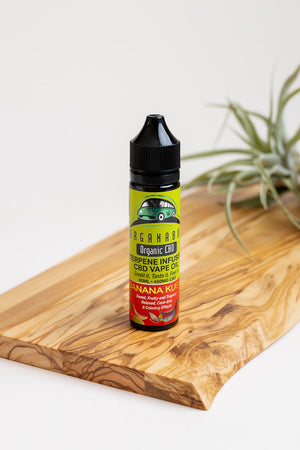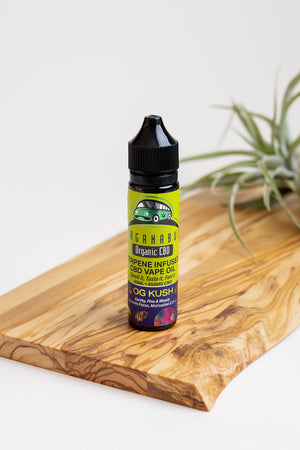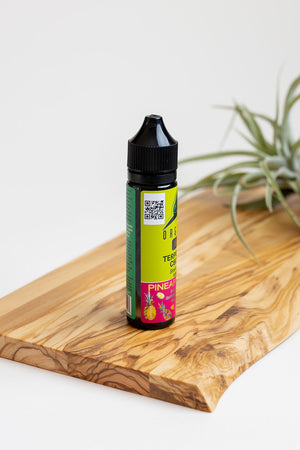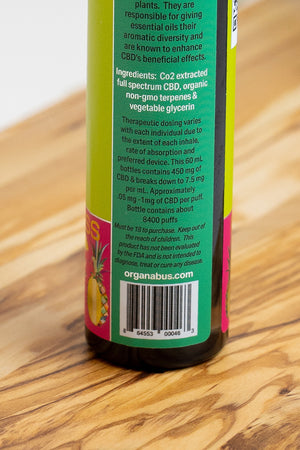 Terpenes are naturally occurring organic compounds produced by plants. They are responsible for giving essential oils their aromatic diversity and are known to enhance CBD's beneficial effect.
Therapeutic dosing varies with each individual due to the extent of each inhale, rate of absorption and preferred device.  This 60 mL bottles contains 450 mg of CBD &breaks down to 7.5 mg per mL.  Approximately .05 mg-1 mg of CBD per puff.  Bottle contains about 8400 puffs.
Ingredients: Organic Terpenes, Vegetable Glycerin, CBD extracted from industrial hemp
Banana Kush has a Sweet, Fruity and Tropical Flavor and has Relaxed, Care-free & Calming Effects. 
Banana Kush Terpene profile: Banana Kush's terpene profile is primarily made up of limonene (34%). In a distant second or third are beta caryophyllene (12%) and myrcene (11%). Other terpenes including alpha pinene, beta pinene and fenchol individually make up 9% or less the strain's terpene profile.
Clementine has a Citrus, Orange, Sweet and Fresh Flavor and has Energizing, Joyful & Uplifting Effects.
Clementine Terpene profile: Terpinolene is the dominant terpene in Clementine's profile at 38%. Its presence assists in giving Clementine additional hints of citrus as well as pine. Ocimene (15%) follows as the second most present, while beta caryophyllene is third with 10%.
OG Kush has an Earthy, Pine and Woody flavor and Improves Focus, Motivation & Drive.
OG Kush Terpene profile: Just over 50% of OG Kush's profile is made up of limonene (28%) and myrcene (23%). One of limonene's contributions to the strain includes its strong citrus fragrance, while myrcene can be found in the slightly spicy taste that comes with smoking OG Kush. Just another reason why OG Kush is so beloved is its THC content. Data collected by Wikileaf found that OG Kush averaged a sizable 22%, well above the 12.5% average for sativas. At its peak, the strain reached a potency of 27%.
Pineapple Express is sweet, Tropical, Cedar, Citrus Uplifting, Euphoric, Energy Boosting, Relieves Stress, Depression & Fatigue.
Pineapple Express Terpene profile: Four terpenes account for the bulk of Pineapple Express's profile. At 30%, beta caryophyllene is the most prominent terpene found in the strain. A citrus terpene, myrcene, is the second most present in the profile at 23%. Meanwhile, another citrus terpene, limonene, is the third most present at 18%. The fourth most present, humulene, offers up a woody aroma and comprises 15% of Pineapple Express's profile.
Super Lemon Haze has a Lemon Citrus flavor with Creative, Soaring & Energetic Effects.
Super Lemon Haze Terpene profile: The majority of the terpene profile for Super Lemon Haze is made in near equal parts. Beta caryophyllene makes up 36%, which can be picked up in the sweet scents of the flower. Meanwhile, terpinolene comprises 31% of the strain's profile. Humulene rounds out the top three at 19% while seven others each make up 7% or less of the overall terpene profile.