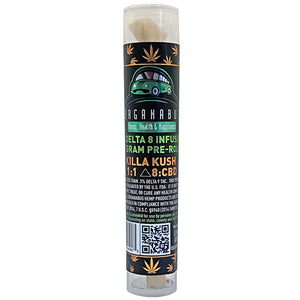 1 Gram Delta 8 infused Pre Roll. 90% Delta 8 

Delta 8 is known to be a mood enhancer. Delta 8's characteristics include improvement of happiness and laughter. This is a perfect product for anyone who wants to explore new cannabinoids that wants to stay clear of THC.
 Warning: Use this product with caution. FOR ADULT USE ONLY. Suggested Adult Use: Puff as needed when comfortable with effects.