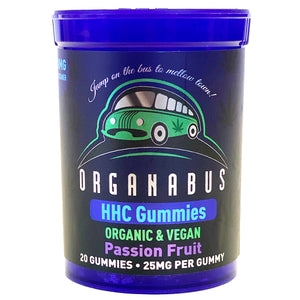 Relax your body and mind with the Organabus HHC gummies. These tasty Passion Fruit treats are Vegan and Organic! They come in a 20 pack with  each gummy containing  25 mg of HHC. 
HHC is known for its relaxation effects, a pleasant sensation with out "cerebral fogginess". This is a great daytime product to enhance creativity and complete tasks.
Ingredients: Organic Tapioca Syrup, Organic Cane Sugar, Fruit Pectin, Organic Flavor Extracts, Potassium Citrate, Citric Acid, Natural Vegetable Extracts (coloring), Hemp Derived Isomer
Serving size: 25 mg per gummy (500 mg total) 
Warning: Use this product with caution. For adult use only. Suggested use: Adults take 1 gummy every 4-6 hours or as desired when comfortable with known effects.